​Finding The Right John Deere Gator Tires
Dec 2nd 2022
While some riders do just fine with the factory tires that come stock on their John Deere Gators, others find the improved traction, strength, and durability of aftermarket John Deere Gator tires too tempting of an offer to pass up on. For those who do a majority of their riding on concrete and pavement, aftermarket street tires are sure to outlast those knobby mud tires on hard surfaces. But if your setup is too optimized for blacktop, it may not perform well in wet, muddy, or sandy situations where grip is paramount. For varied ground conditions, all-terrain tires are advised. But for domain-specific riding, you might be better off with a set of John Deere Gator tires designed specifically for a single type of terrain.
Roadworthy Tires For The John Deere Gator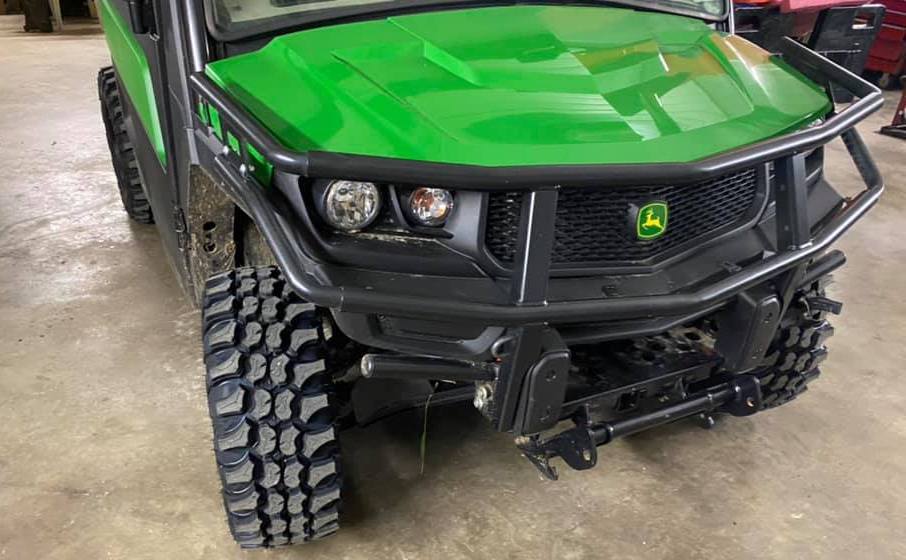 If after a few years you're already on your 2nd set of Carlisle tires and looking for a 3rd replacement set, you might want some street tires for your John Deere Gator. While semi-aggressive radial tires like the Kanati Mongrels by GBC perform moderately well in all kinds of conditions, they're known to lose air pressure, wear unevenly, and crack where the tread knobs meet the tire surface on the lugs. Instead of using all-around tires, you'll get more life out of a road-specific tire if you log most of your seat time cruising around on streets, gravel roads, or county Highways.
If tread longevity is what you seek, throw on a set of Predator hard-surface tires by Obor. Like the aforementioned Mongrels, Predator UTV tires are also DOT-certified, and sure to outperform Bighorn tires by a long shot where Highway driving is concerned! Even though they're made in China, Carlisle Versa Trail XTRs aren't the worst tires you can use on a Gator, but you can get a smoother and quieter ride with some basic light truck tires like the 28x11xR14 units by BFGoodrich.
Fourteen-inch General Grabber ATX tires work well on roads and pastures when they're balanced properly, and because they are more stable with less sidewall roll in turns, Supergrip's radial DOT 8-ply tires mounted on Vision Rocker wheels with a 4+3 offset are surprisingly quiet and smooth on roadways.
Another high-quality mixed-use John Deere Gator tire setup that performs well in both on-road and off-road environments is the KM3 package by BFG. Not only do they ride decently on paved surfaces, but they also pull well in the mud and wear like iron!
John Deere Gator Tires For Mud And Muskeg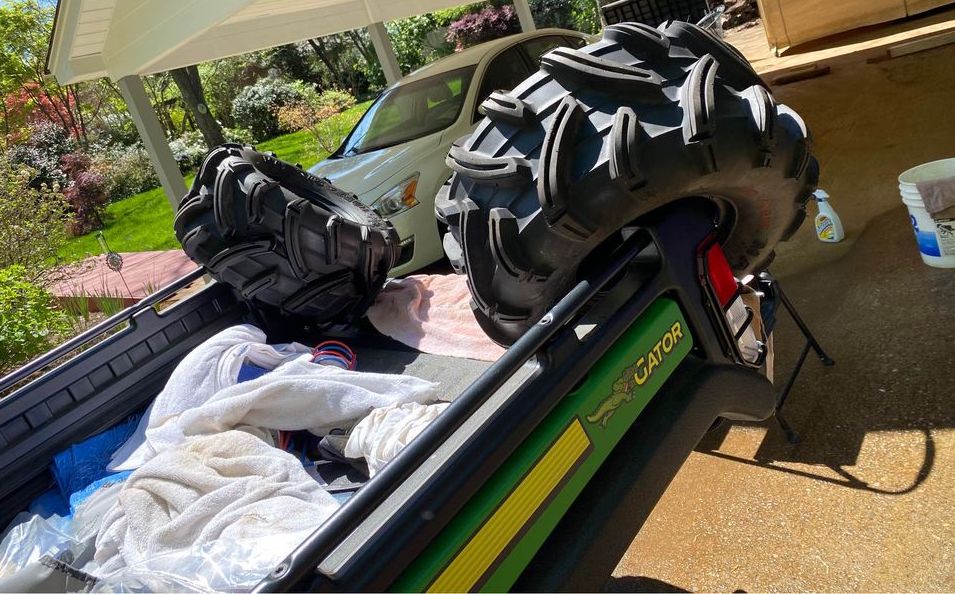 It's one thing to run wear-resistant tires on gravel roads, double-track trails, and asphalt, but when you're creeping through wet fields and muddy pastures, you'll want a tire with bigger lugs to help you maintain traction in the slippery stuff. Few tires are more extreme and better suited for mud than the Assassinator mud tires by SuperATV, but these might be a bit too aggressive for milder applications. Maxxis Mud Bug tires handle well in the slop, and companies like QuadBoss and Sedona also offer both radial mud tires as well as non-radial mud tires for the John Deere Gator.
Larger-Than-Stock John Deere Gator Tires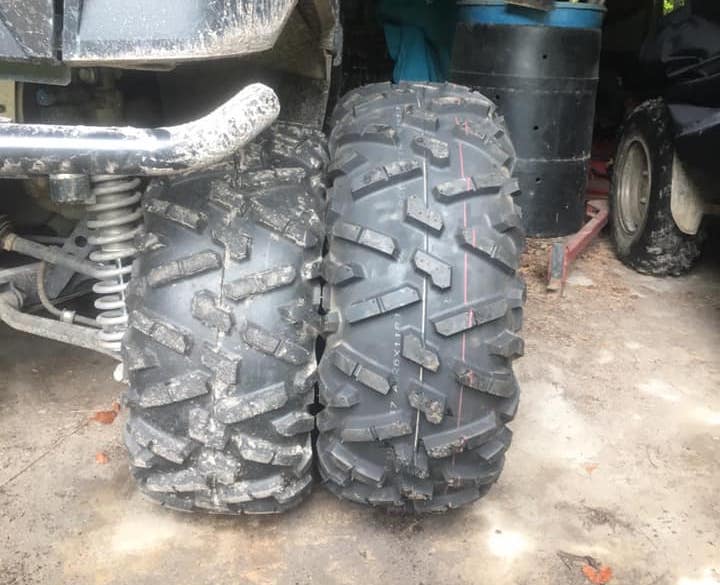 Some riders stick with factory-size tires and wheels when choosing aftermarket options for their John Deere Gators, while others go for aftermarket tires and rims that are taller, wider, or all around bigger than stock. Whether it's the Gator HPX 815E with 24x9.5-10 tires on the front and 24x12-10 tires on the rear, the Gator XUV 835E with 25x9-12 tires on the front and 25x11-12 tires on the back, or the Gator XUV 855M S4 with 27x9-R14 tires in the front and 27x11-R14 tires in the back, almost every John Deere Gator comes with wider rear tires.
If you're worried about voiding your warranty, you can adhere to the factory tire and wheel size specs. But many folks opt for the same size tires all around. Although they're 2" taller than the stock tires on the Full-Size Crossover Gator Utility Vehicles, 28x10-R12 Blackwater Evolutions by ITP will work swimmingly without rubbing. Similarly, you can even use 28x10-R14 tires all around and they still wont rub! Be it 28" EFX MotoHavoks for darn-good performance on pavement and in the woods, or 28" BFG Mud Terrain tires that are smooth on the highway and sticky in snow, there are several advantages one can leverage by running larger-than-stock John Deere Gator tires and wheels.
Final John Deere Gator Tire Considerations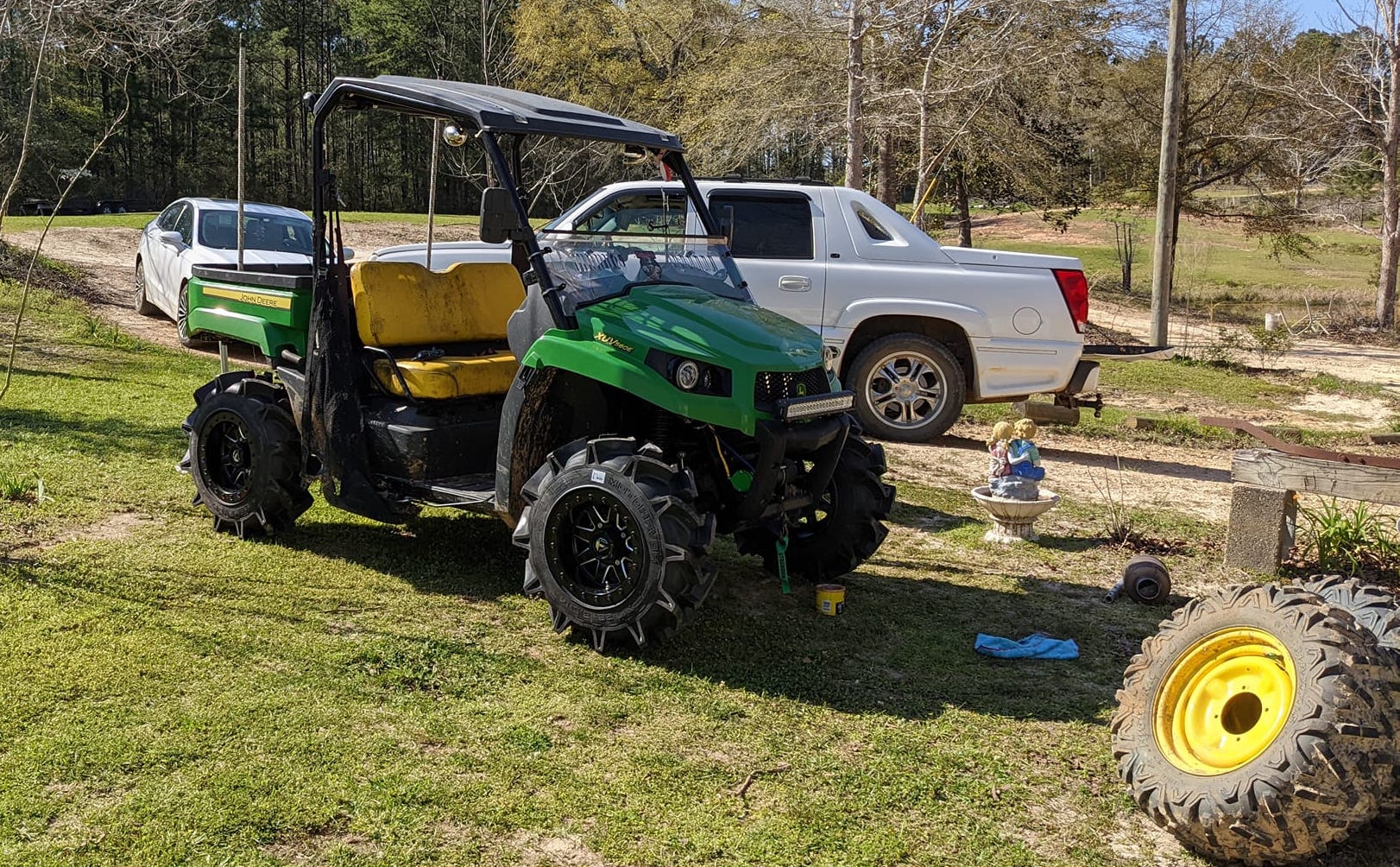 Few (if any) side-by-side tires are able to perform exceptionally well in every situation. For lawns and sod, smooth turf tires can be used so that you don't rip up the ground. But smooth tires will struggle to grip in mud, on hardpack snow, and over wet slabs of smooth rock. For desert dunes, beaches, and river sandbars, paddle tires work great. And for farm applications, a good mixed-use tire is oftentimes the best bet. But whichever tire size and tread style you're after, we're sure to carry it here at Everything John Deere Gator!