​Buyer's Guide: A Comprehensive Look At Snow Plows For The John Deere Gator
Jan 16th 2023
If you're wondering whether or not you can push snow with your John Deere Gator, the answer is yes! But when it comes to snow removal, which John Deere Gator snow plows are the best? While the Western snow plows that dealers sell are decent, they're rather pricey -- especially for the casual user. And although you could go with a Fisher snow plow for your XUV, a Boss snow plow for your RSX, or a SnowEx snow plow for your HPX, these too are on the expensive side when compared to many of the equally-capable alternatives. Plus, in addition to the brand of snow plow you choose, the type of snow plow you choose is another important factor worth considering. So what's the deal, should you get a straight-blade plow or a V-blade plow, a hydraulic plow or a manual plow? Sit tight, because we'll answer those questions and more in this comprehensive buyer's guide on John Deere Gator snow plows!
Should You Use A Gator To Plow Snow?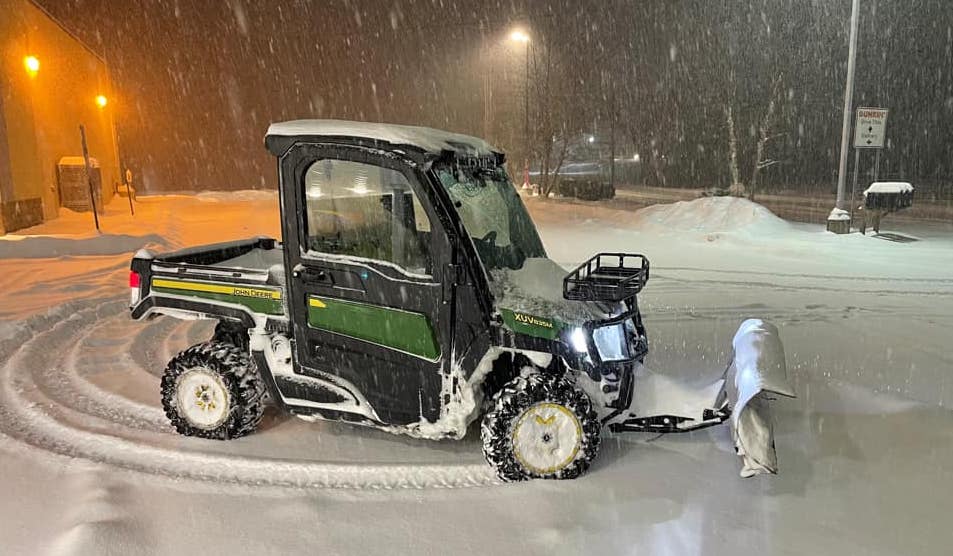 Before we discuss how you might plow snow with a John Deere Gator, we must first see if you should plow snow with a John Deere Gator. Some riders claim that their Gator plows well through the deepest banks of the heaviest snowfall. Others, however, admit that their Gator doesn't plow wet snow very well, or that they aren't the best for removing hardpack snow. Granted, you'll never get the same amount of down pressure with a Gator as you would with something like a 3720 compact tractor, but you will be quicker and more agile when using a John Deere Gator to plow.
For a little extra traction and balance when plowing, you can add some weight to the rear end of your vehicle – four 50lb bags of play sand works well for this. If you've got a Diesel Gator and less than a foot of snow, you might not need any additional weight. But if you're pushing a full blade of wet heavy snow with your buggy, don't be scared to add around 500 Lbs to the rear for better performance!
Best John Deere Gator Snow Plows
The right snow plow for you will depend on what you're plowing, where you're plowing, and how you're plowing. Additionally, you have to consider both your budget as well as the amount of work you're willing to put in. If you've got the funds, a fully-hydraulic plow will make your workload easier. But if you want to go the cheap route, a manual plow is oftentimes more than sufficient. The geography where you live is another important factor. A plow that works well in a few inches of dry powdery snow might not be the best in areas that receive multiple feet of wet slushy snow. So what are the best types of John Deere Gator snow plows for specific conditions, and which brands of John Deere Gator snow plows are the most functional, reliable, and resilient?
Straight Plows Vs. V-Plows
When you juxtapose straight plows with v-plows, the differences in shape are clearly evident. And as you might expect, the larger blade of a V-Plow makes it much heavier than a straight-blade plow. Most straight plows for the John Deere Gator can be angled to the right or left, and this is all you might need for small-scale applications. But because each side of a V-plow can be angled independent from the other, they offer more precision and can be used to stack snow in large piles. V-plows are almost always used by those who plow commercially, as they can do anything a straight plow can do, only much more.
The caveat with V-plows, however, is that they're expensive. The complete John Deere Gator V-Plow System by Moose, for example, is more than double the price of KFI's Heavy-Duty Snow Plow Kit. If you can afford it or justify the cost, you'll do well with a V-plow. But for casual use, there's nothing wrong with a tried-and-true straight blade!
Blade Size And Material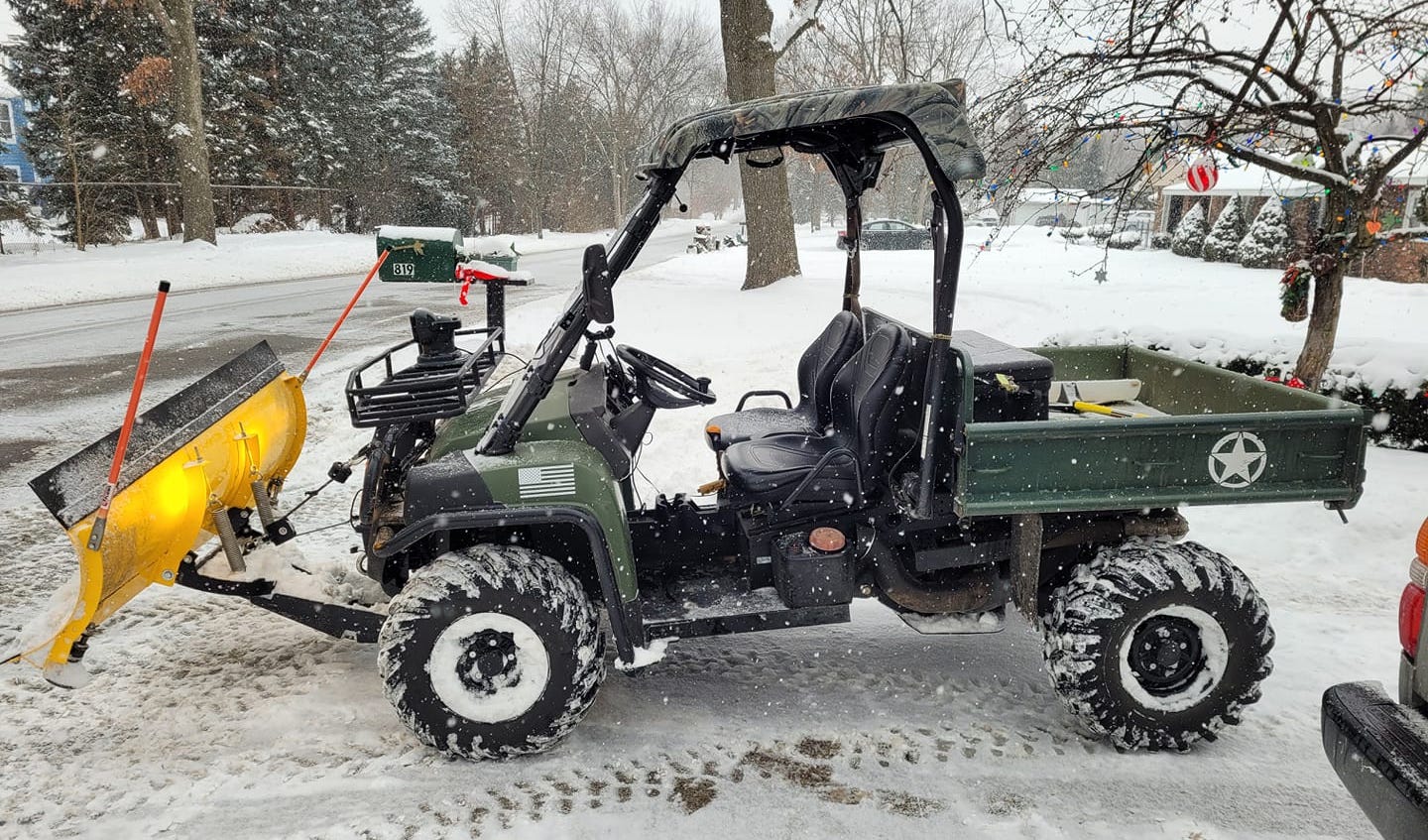 For long driveways, you probably want a wider plow (72" plow blades are popular) to get the job done faster. On the other hand, to clear sidewalks or narrow footpaths, you might instead want a smaller 48" blade. As far as blade materials go, you can find steel plow blades and poly plow blades. Contrary to what you might expect, some poly blades are actually heavier than their steel counterparts because they're reinforced with things like steel and aluminum. You might then ask, why would anyone use a poly blade if it's heavier than steel? And the answer is because they've got an incredibly low coefficient of friction. No matter the moisture content, snow simply slides right off poly blades!
John Deere Gator Snow Plow Brands
Many companies manufacture snow plows for the John Deere Gator, but fewer companies manufacture high-quality yet affordable snow plows for the John Deere Gator. We mentioned Moose and KFI previously, but firms such as Denali, Eagle Plow, and Kolpin Powersports also produce well-made plows and plow-related accessories for use on any John Deere Gator. UTV snow plows like the ones by KFI are winch driven, while other UTV snow plow kits are hydraulic powered. The Intimidator snow plow by Bad Dawg is a good example of a hydraulic snow plow. It can produce 650 pounds of down pressure, which enables you to plow in the forward direction as well as back drag. But even though the Bad Dawg plow has a 10" stroke, you still have to change the blade angle manually. With a Power Angle unit by Kolpin Powersports, though, you can rotate your blade with precision to the left or right to an angle of up to 56 degrees!
Final Thoughts On John Deere Gator Snow Plows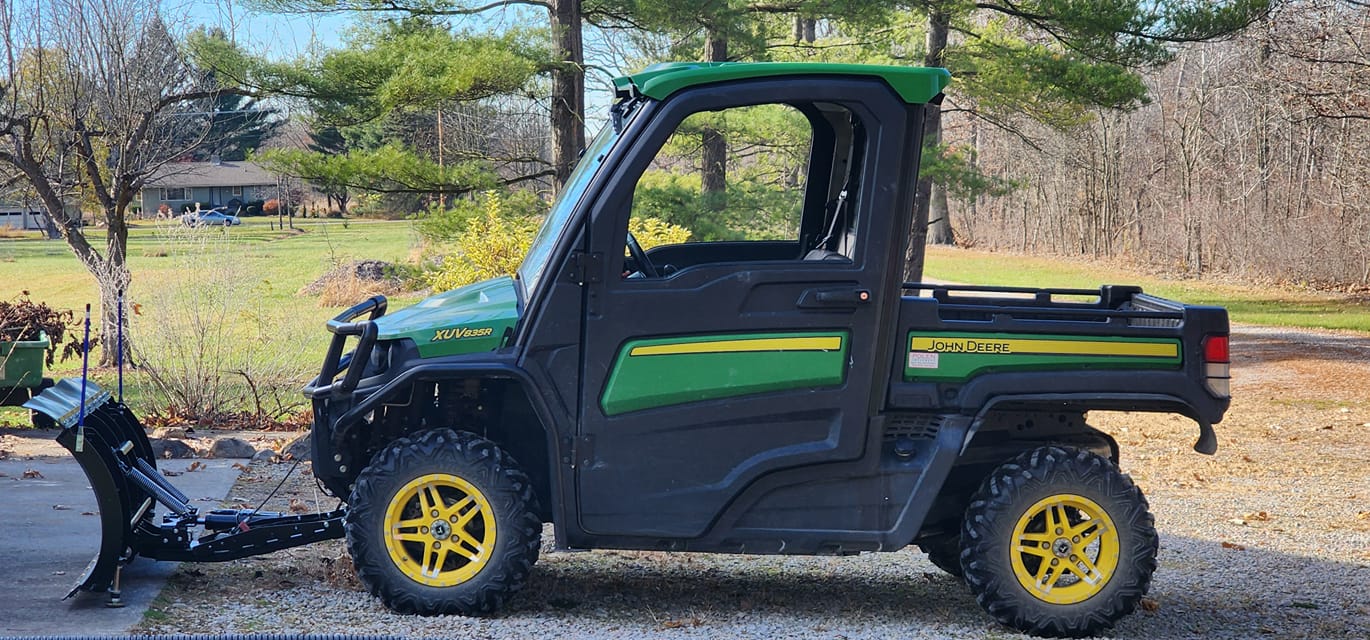 We're not saying that the John Deere Gator is the best snow removal machine around… but it's close! Even compared to a JD 3032e, the Gator performs arguably better behind a plow. No matter which plow setup you decide to go with, your Gator will certainly push it. In the most extreme of cases, you might want to use a snowblower over a snow plow. But for everything else, you'll turn hours of manual labor into a quick bit of fun with a John Deere Gator snow plow kit installed on your vehicle!